There are several providers that are supported when adding videos to articles in Express.
YouTube

Brightcove

JW Player

Vimeo
Videos can display as a feature/hero video at the top of the page (as a replacement for the main media image) or can display inline with the body content.
Video URL formats
Video URLs must use the following structure:
YouTube

:

https://www.youtube.com/watch?v=3XM_Xass2uk

Brightcove

:

https://players.brightcove.net/12345678/default_default/index.html?

videoId=5736535571001

JW Player

: https://cdn.jwplayer.com/players/<media id>-<player id>.html

Vimeo

: https://player.vimeo.com/video/623686538
 ⚠️ Check the Privacy settings with the video provider, for example Vimeo videos set to Private can not appear as embeds and Unlisted videos require a privacy hash included in the URL. Pugpig Express supports the privacy hash, but requires you to whitelist the relevant domains in the Vimeo dashboard. 
Adding an inline video 
1. Click the Add Video button in the editor.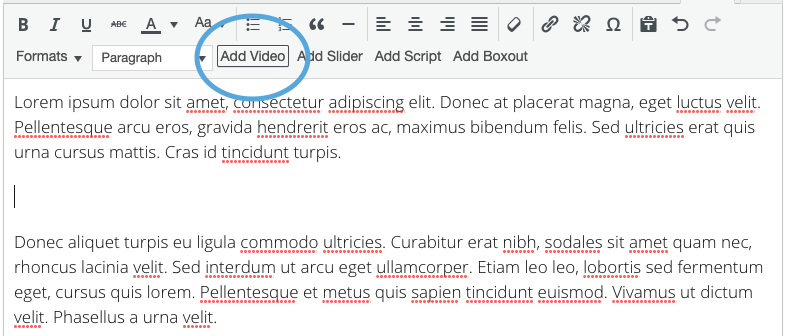 2. Select the correct video provider from the list.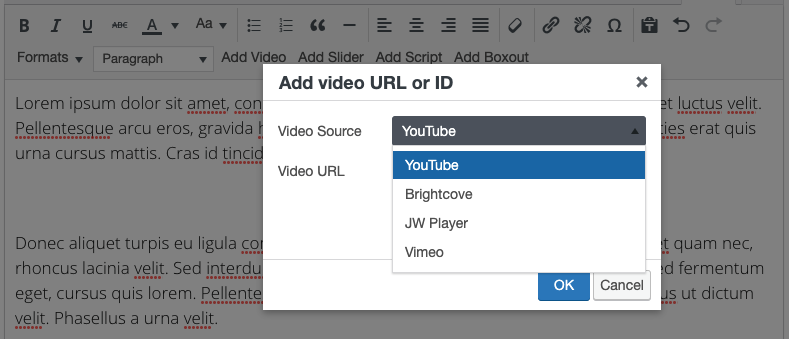 3. Paste the URL of the video into the pop-up and click OK.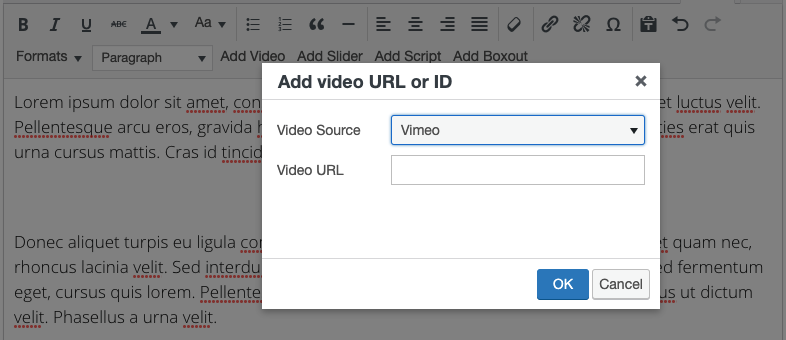 ⚠️ YouTube and Brightcove video URLs can be pasted directly into the editor instead of using the Add Video option.
4. If correct, you will see the video render a preview and you can continue to edit or publish the post.
How to add a feature video
1. Select Video in the dropdown for Main Media Type setting.

2. Choose the correct video provider from the list.

3. Paste video URL into the Main Media Video URL field.
4. Save and preview the article to see your feature video.